"The Status Quo's Sure Looking Like It Needs A Good Smashing"
or
"This Town Needs An Enema!"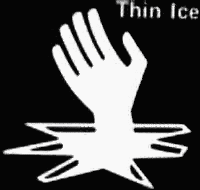 Everywhere you look these days, the overwhelming evidence points to there being a severe shortage of anything worth two shits offered to the public by the mainstream arts and culture community of Western society. The possible reasons for this are numerous and far-reaching. Most striking, though, is how little anybody seems to be doing about it.
We have grown fat and lazy in designating where to spend our entertainment dollars, although, to be fair, we have finally discovered a way to peel our asses off the couch and away from our 60 year love affair with the television. And now, because of computers and cellphones (with text messaging!), we are in an age of incredible interaction capability. We are connected to each other as we have never been connected before. Yet what the great majority of us are using this capability for is the most inane, mundane subject matter imaginable.
Let's use Tom Cruise as an example: Tom Cruise's baby made her first ever public appearance on The CBS Evening News with Katie Couric â"¢, a surefire ratings hit, as this was the first time ever that a woman *gasp* solo-anchored a primetime network news show. And what better way to expose your new baby to the world than to parade her on TV and in the glossy pages of Vanity Fair simultaneously, thereby effectively one-upping that other baby-to-end-all-babies, What's-Her-Name Pitt-Jolie.
If TomKat's baby making national news isn't enough to prove beyond all doubt that our culture has entered the slow, swirly decline into the crapper, then I think I've finally figured out why there is such a(n) (annoying) proliferation of MySpace bulletins proclaiming users' boredom. The gawd-awful truth is that there is so little out there worth investing our time and money in that, across the board, media conglomerates are seeing less and less return on their overwhelmingly shitty investments…the "product" that they present to us, the public. Doubt me? James Patterson, who doesn't even bother any more to participate in the actual writing of any of the five books he releases each year, sits once again atop the bestseller list. Is there ONE fucking program worth a week's undigested TV dinners in the Nielsen top 20 ratings? How about music? We're passively observing the nascency of WWIII and look at the fucking Billboard Top 200. As much shit as I give the Baby Boomers for dumping their ideals as soon as a dollar was waved under their noses, post-Vietnam, at least they gave the enterprise of pretending to give a fuck a go of it for a decade or so. We can't even be bothered to pretend. This is true atrophy on every level and we are all in collusion with its slow disintegration of our spinal cords and our much-hyped, though little-valued, "free will".
The right wing faction in control of this country at the moment wants to talk about moral decay, and how the very fabric of our society is coming apart at the seams, but I'd posit that no amount of flagrant gay marryin' can compare to the way in which we've allowed our arts community to be completely ravaged by the bottom line. Nearly everything you read, listen to, watch on TV or in a movie theater is OWNED by seven different media conglomerates. This is not an exaggeration. And they obviously have terrible fucking taste. Because the easiest way to make a product is to carbon copy it. We have been co-opted. We have become nothing more than target demographics and lowest common denominators.
But we have an incredibly large arsenal at our disposal. We can fight back. We have a voice. And a wallet.
More next time.
Talk soon.
~Frank
www.futureproofbook.com
www.myspace.com/nfrankdaniels
Frank Daniels is the author of the acclaimed,POD-dy Mouth-approved novel FUTUREPROOF. Currently, Frank is preparing to embark on a seven city book tour that he is funding through a little help from his friends…you guys. Please check out his eBay auctions, and help the cause.