*To read or add to the 160 comments on this post, click here. And thanks for visiting.*
Steve the dog on summer vacation.
LitPark goes on summer vacation beginning today, and I have a few things to wrap up before my link-to-Tommy-Kane contest winner, Laura Benedict, gets a moment to shine.
Some interesting end-of-the-season stats: The single search phrase that brings the most people to LitPark is "Daniel Handler." And if people didn't spell and mispell his name in so many ways, the winner would be "Peter de Seve." The photo that brings the most people to LitPark is Josh, half-in-drag. The highest number of clicks to LitPark come from my MySpace page and second from Neil Gaiman's blog. Some of the creepiest people find LitPark in their search for Ritchie's street address. And the spam filter has bagged over 4,000 porn links.
Oh, right, my answers to the Questions of the Week (I'll keep it short today): My phobias are snakes and very small spaces. This seems to include sleeves, which is why I'm almost always in a tank top, even in the winter. Favorite Hendrix tunes are Crosstown Traffic and Little Wing.
Thank you to everyone who lurks and plays here, and particularly to those who answered the Question of the Week: Simon Haynes, Nathalie, lance reynald, Colin Matthew, amy, Lauren Baratz-Logsted, PD Smith, Michael D. Williams, Alexander Chee, Richard Cooper, Lori Oliva, Betsy, Aurelio, Nicole, Kimberly, Rachna Vohra, Alexi Lykissas, Robin Slick, Anneliese, Laura Benedict, Lee, Ric Marion, Michael, Stephanie Friedman, Gail Siegel, A.S. King, bruce bauman, james spring, Mark Bastable, Sarah Bain, billie, Carolyn Burns Bass, and Jody Reale. And to Tish Cohen for hanging out with us.
I'm off for the summer – to Montana (to see my brother) and France (just because). Mostly, I'm finalizing my book for St. Martin's while Mr. Henderson is building me the coolest office ever – you have to go through my wisteria tunnel to get to it! I'll leave the comments open so you guys can hang out here or post announcements as you like. Have a great summer. Write lots. And play lots. xo
Okay, here's Laura. Her piece is brilliant, but you'll find that out soon enough. (And thanks to Pinckney for doing the html on this one. And then thank you even more hugely to my O. Henry award-winning webmaster, Terry Bain, for translating that code to something Mac-friendly!)
*
Meet Howard Richard Baugh, my grandfather. Born in 1904. A civil servant, stamp collector, constant reader, diabetic, yellow-dog Democrat. Certainly not a murderer. I wont say that he was a peaceful man because I remember him angry, often, mostly over baseball and politics or the lateness of dinner. Though he was always gentle with me.
I never set out to write about anyone in my family. They are too tender, too charmingly insecure, and I dont want them angry with me. Maybe I thought that my grandfathers being dead made it okay. Maybe.
Amanda Cockrells spring writing workshop at Hollins University a few years back was about writing from place, something Id done frequently, but unconsciously. So I wrote about the first place I knew: the house I was born into, where I lived the first two years of my life with my mother and grandparents while my father was overseas.
This is how the house lives in my dreams: I dream of its basement, of the shelves and shelves of canned goods stacked behind cracking window shades hung to keep the dust from them, of the well-swept concrete floor where my mother said she roller-skated as a child, though I can hardly imagine anyone wanting to play down there, of the off-season clothes hanging like human shadows in zippered bags from the ceiling. I dream these thingsreal things that I knewbut there is something else, a dream-thing: the secret room at the bottom of the stairs.
I was, perhaps, ten the first time I had the dream. My grandmother leads me down the stairs to show me the door, and though she doesnt say anything, I know that its important. There is a hallway behind the door, and three rooms. The rooms are identical, painted a peaceful blue, each with a single, white bed over which hangs a large crucifix. My mother is in one room, lying on the bed with her eyes closeddead or sleepingand my grandmother shows me herself lying in the second room. Neither of us is afraid, and I am unsurprised. But I know what is waiting in the third room: the bed is empty, but I know it is for me.
Is it any wonder that I would write about this house that lives so vividly inside me? My grandfather is a part of that place, inseparable from it. My grandmother, too.
They puzzled me. They ate almost every single meal together. But they slept in separate bedrooms and spent most of the day apart: he went to the library, the post office, the grocery or to whatever discount store had something useful on special. When he returned, he would write down every single penny spent in a ledger. My grandmother? She cooked, she read, she watched soap operas, she cleaned. Sometimes she went to bingo, taking me with her (beginning when I was five or six) to the smoke-filled church hall where she would give me a single card to play.
But there was tension, and isnt it always tension that motivates us? There was a distance between them, something that went unspoken. I didnt find out until I was in my thirties that my grandmother had been married before, to a young man who died when his appendix burst after being sent home from the doctors office, undiagnosed.
Everything Id ever wondered about my grandparents fell into place with this piece of information. I cant know what their relationship was really like. Perhaps they had resolved her past between them, early on. Perhaps they were just exhausted from my grandfathers raucous snoring. Perhaps it was the lack of air conditioning in the house. Perhaps it was all in my head. But the tragic/romantic explanation appealed to the drama queen in me.
What better way for me to make sense of their story than by making it my own? My first efforts at fictionalizing that ineffable tension were weak. Im not good at literary nuance, that artful play of language that telegraphs emotion rather than broadcasting it. I need the broad stroke: nascent fears become murderous impulses, small irritations become grand jealousies. And so, H.R. Baugh, a man who liked control and who lived an ordinary existence filled with everyday frustrations, became a murderer. My grandmother, a smart, reticent woman became the repressed romantic heroine who was so desirable that she incited violence. I love that juxtaposition of reality and fantasy, the inherent conflict. I dont think my grandfather was truly capable of murderbut the anger and conflict I witnessed (or imagined) as a child lodged somewhere deep in my brain. A writers brain makes some startling rationalizations.
It took six major revisions before In A White House, a story of domestic discomfort written for a literary workshop, became The Erstwhile Groom, a story of broken hearts and multiple murders. It was a turning point for me, an acceptance of my vocation as a thriller writer. It is a gentle pieceas murder tales go. As I wrote in my regular myspace blog recently, my current writing is populated by rougher characters: the angry heroin addict with a thing for his sister, the childless woman whose grip on reality is tenuous at best, the twin succubi, the faded rock star who slides, effortlessly, into murderous madness. But I think I would have to draw the line at putting twin succubi in the same scene with a character who bears even a slight resemblance to someone I loved with my childish heart. The Erstwhile Groom will appear this summer in Ellery Queens Mystery Magazine, a wonderful magazine of short stories featuring mystery and murder, but very few incest-driven heroin addicts.
I dont think Im finished with my grandparents, or their house. I sure hope they dont mind.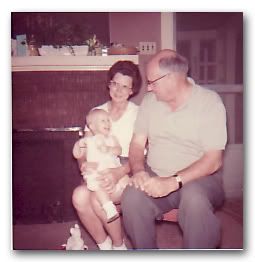 ---
Laura Benedict's debut novel, Isabella Moon, will be published in September by Ballantine Books, with a second thriller to follow in 2008. Her short fiction has appeared in Ellery Queens Mystery Magazine and a number of anthologies. In October, Press 53 will publish Surreal South, a short story anthology she co-edited with her husband, Pinckney Benedict. For the past decade, she has also reviewed books for The Grand Rapids Press (Michigan) and other newspapers. She lives with her family in rural southern Illinois, a lonely, enchanted sort of place that offers excellent inspiration for writing thrillers. Visit her at www.laurabenedict.com, or read her regular blog on her MySpace page.